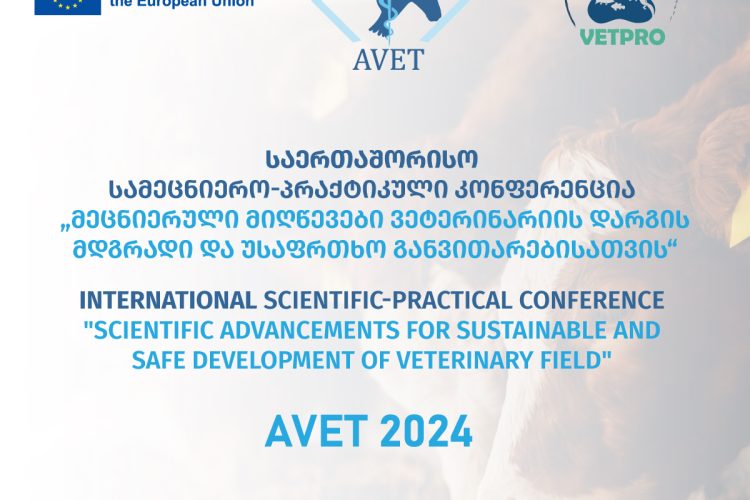 Title of the conference
International scientific-practical conference "Scientific Advancements for Sustainable and Safe Development of Veterinary Field (AVET)"
The purpose of the conference
The purpose of the international scientific-practical conference is to promote the development of scientific-practical activities in the field of veterinary medicine in Georgia. The conference serves to present the scientific-practical activities of local and international scientists, academic staff, experienced and novice researchers to a wide audience, to bring them together to exchange and share their experience and research results. The conference provides a platform for veterinary researchers and practitioners to present and discuss new innovations, problems, and practical challenges and solutions.
Conference themes
Small animal medicine
Large animal medicine
Veterinary public health and food hygiene
Hygiene and safety of products of animal origin
Clinical pathology, oncology, morphology
Infectious diseases, epidemiology and public health
Non-communicable diseases (diagnosis, therapy, prevention)
Livestock sciences (animal nutrition, animal hygiene and welfare, genetics – breeding)
Veterinary education – teaching and learning
Conference format
Hybrid (Venue: 76 Guramishvili Avenue, European University, Tbilisi; ZOOM).
Conference organizers
European University (Georgia)
Samtskhe-Javakheti State University (Georgia)
Shota Meskhia State University of Zugdidi (Georgia)
Estonian University of Life Sciences (Estonia)
Latvia University of Life Sciences and Technologies (Latvia)
Dates
Abstract submission deadline: February 29th, 2024
Abstract notifications: March 31st, 2024
Conference date: April 26th, 2024
Full paper submission deadline: May 26th, 2024
Working languages
Georgian and English
Registration fee
No fee
Registration for presenters and listeners
Application of presenters for the conference is done by sending abstracts to the e-mail: avetconference@eu.edu.ge
Those who wish to attend the conference as a listener should complete the following form: https://forms.gle/11EctmRuMR772iQ5A
Both the conference presenters and listeners will be awarded with the relevant certificates.
Abstract submission instructions
Number of words of the abstract is 100-250 words.
Presentation length: 15 minutes.
All positively reviewed abstracts will be published in the Book of Abstracts which will have its own ISBN. Both printed and online versions of the Book of Abstracts will be available.
Full paper submission instructions
Number of pages for the full paper is 4-10.
Forms (templates) of full papers, depending on the language the paper is written in, may be downloaded below: