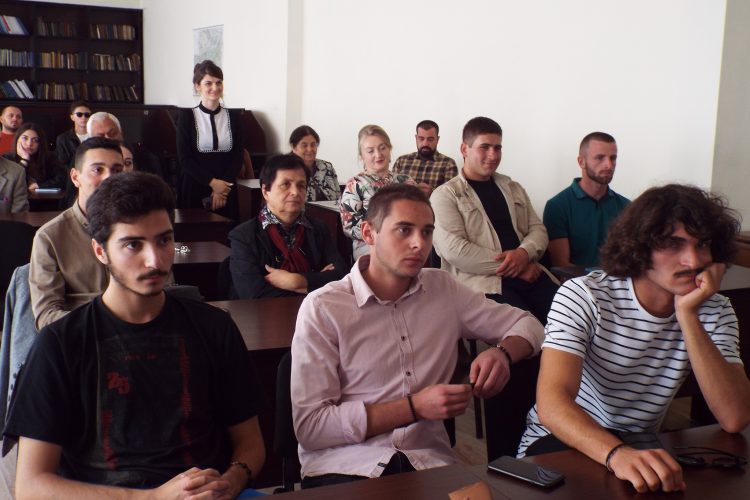 On September 26, within the framework of the Erasmus+ CBHE project "Development of Veterinary Faculties at Georgian HEIs to Create a New Pool of Young Veterinary Professionals in Georgia" (VETPRO), the academic and administrative personnel, who have been on a working visit to Latvia and Estonia, held a meeting at the Samtskhe-Javakheti State University library. It aimed at sharing the gained knowledge and experiences.
From Samtskhe-Javakheti State University, the Rector, professor Maka Beridze, and the professors Levan Makaradze and Nino Milashvili paid a working visit to the Estonian University of Life Sciences on September 12-16, whilst on September 5-6, the project manager, senior specialist at the International Relations Office, Guranda Modebadze and the professor, Nino Milashvili visited the Latvia University of Life Sciences and Technologies.
The meeting was opened by the Rector of the University, Maka Beridze who provided the attendees with detailed information about the educational program in veterinary medicine at the Estonian University of Life Sciences. The project manager, Guranda Modebadze, and the professors, Levan Makaradze and Nino Milashvili shared the new knowledge with their colleagues.
It is noteworthy that that the meeting was held in hybrid mode and the participants were given an opportunity to join the information meeting that took place at the same time at the VETPRO project partner Shota Meskhia Zugdidi State Teaching University.
Project participants, representatives of the Rectorate and University administration, professors and teachers, representatives of the student self-government, and other interested persons attended the event.